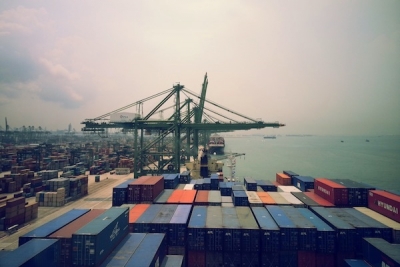 The falling trend in container shipping spot freight rates for most of this year is pushing larger boxships to idle on the back of the continuing overcapacity problem, according to an analyst report by shipping association Bimco.
The report pointed out that traditionally the idle fleet has consisted of small to medium sized container vessels, but right now, that idle fleet has "almost disappeared" and brought about improved charter rates for this vessel capacity segment.
"Now it can be argued that it is time for idle larger ships as the overcapacity is clear and present amongst them. Moreover, while idling some of those units we may see the fundamental balance amongst the larger units improve by a scale that higher spot freight rates would be developed too," the Bimco report said.
"Where spot rates certainly fail to impress, the increase seen in charter rates for smaller to medium sized containerships have done just that. The 6-12 months' charter rates currently seen are almost double that of last year's," the report continued.
On the main lane from Shanghai to Europe, a new all-time low freight rate was recorded last Friday, where a teu could be sent for just $243. The rate had fallen from $284 seen in the previous week.
"On the major as well as minor trading lanes out of Shanghai specifically and China in general, spot freight rates are found at a six-year low, for this time of the year; with Shanghai-Korea being the only exception," the report mentioned.
On the supply side, 602,000 teu have been added to the market since 1 January this year, with demolition activity removing 72,000 teu of capacity. The global container vessel fleet is now 2.9% bigger compared to the start of the year.
Shipowners have ordered 30 ships with capacity of 18,000 teu or more, 12 in the 10,000-11,000 teu range and 13 in the 1,400-4,000 teu range. In 2014, no ships in the range of 5,000-9,000 were ordered.
"The fleet growth is so biased towards larger ships that the question remains: will there eventually be a gap in the market?" Bimco asked.
And despite the rise in charter rates for the small to medium sized boxships, the market has not seen a flurry on newbuilding contracts. Just six ships in the size between 1,000-3,000 teu have been ordered in 2015. During 2014, 72 ships of this size were ordered. "If the rates remain high, more orders could easily surface," Bimco said.