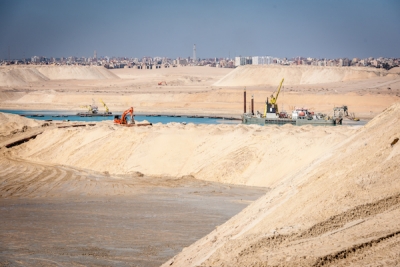 Egypt is to complete the Suez Canal Expansion project on 1 August, according to one of the leading international dredging companies involved in the project.
"The project is scheduled to be completed by 1 August," said Arno Schikker, a spokesman for The Netherlands' Royal Boskalis Westminster (Boskalis).
According to Schikker, the chairman of Suez Canal Authority (SCA), Lt.-Gen. Mohab Mamesh, announced earlier this month the official inauguration ceremony for the project would take place on 6 August.
The NVBJ consortium, made up of National Marine Dredging Co., (Abu Dhabi), Van Oord (The Netherlands), Boskalis and Jan de Nul (Belgium), is responsible for dredging a new parallel canal that will be 35km long and 24m deep.
The four companies are equal partners in the consortium. The construction of the parallel canal is part of the larger 72km Suez Canal Expansion project that also includes deepening and widening other sections of the Suez Canal, being executed by the SCA and other companies.
"The consortium is realizing a parallel canal with a length of 35 km requiring a volume of 200m cubic meters of cemented sand and gravel to be dredged. Technically the dredging itself is not too complicated," Schikker said.
The main challenge was the very short execution time of only 10 months and the logistical operation in respect to the mobilisation of the required equipment, he said.
"In addition to the 21 cutter suction dredgers and five trailing suction hopper dredgers that were mobilised from various places around the globe, large stocks of pipelines (around 80km in length), anchors, pick points and earth moving equipment were needed, as well as accommodation on site for around 1,800 people at work, by means of accommodation vessels."
With the largest joint fleet of cutter suction dredgers ever deployed on a project a record-breaking production of more than 1.4m cubic meters [per day] of sand and gravel is being realised.
Late last year, under Egyptian army supervision, local companies began work to level a top layer as high as 20 metres down to a height of 1m above sea level.
"It is not the aim of this project to make two-way traffic possible on the entire canal. There will be a long section with two-way traffic but passing places will be built on other sections. Shipping will continue to sail through the canal in convoys but the convoys will be much longer," Boskalis' director, dredging division, Middle East, Bas van Bemmelen, was quoted as saying in a company newsletter.
The contract value for the NVBJ consortium is $1.5bn. Schikker referred enquiries about the total cost and financing of the project to the SCA.