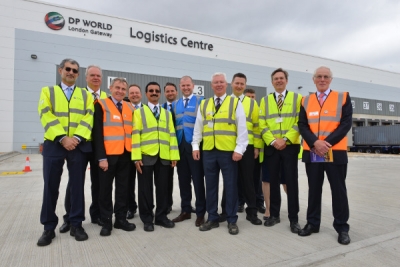 DP World's first distribution centre at the London Gateway Logistics Park opened officially yesterday, with the UK's shipping minister, Robert Goodwill, in attendance.
Goodwill and DP World chairman, Sultan Ahmed Bin Sulayem, formalised the opening of the centre during a ribbon cutting ceremony.
Phase one of the unit comprises 16,800 sq m of distribution and logistics space, with a further and 2,400 sq m of office space. Plans are already in place to expand the centre to 36,000 sq m to meet demand. The logistics park is set to become the largest of its kind in Europe.
UK logistics out Import Services Limited is operating the centre in partnership with DP World.
"I am delighted to have been able to open the London Gateway Logistics Centre, which is the next step in this ground-breaking development on the north-bank of the River Thames which is breath-taking in its size, scale and attention to detail," commented Robert Goodwill MP, parliamentary under secretary of state for transport
"Any project that gives the country an edge, whether it be generating supply chain efficiency or leading the way in environmental sustainability, should be commended."
Sultan Ahmed Bin Sulayem, chairman, DP World, added: "DP World London Gateway is transforming UK supply chains and this new logistics hub has been constructed to the highest quality and environmental standards. It is the perfect example of how retailers and cargo owners can achieve cost savings by positioning themselves strategically, here, in the right location for trade.
"Our next building, in joint venture with Prologis, is progressing well and we expect it to be ready in September."