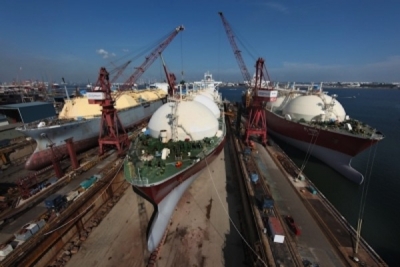 Keppel Offshore & Marine (Keppel O&M) has contracted its third liquefaction facility conversion from Golar LNG, after the latter exercised the second of two options.
Keppel Shipyard, wholly-owned by Keppel O&M, entered into the latest contract woth $684m with Golar Gandria, subsidiary of Golar LNG, to perform the conversion of a Moss-type LNG carrier, the Gandria, into a Golar Floating Liquefaction (GoFLNG) facility.
The contract will become effective upon the fulfillment of certain conditions by 21 September 2015.
The first option worth $705m was exercised in December 2014 for the conversion of the Gimi, also a Moss-type LNG carrier, following a $735m contract inked in July 2014 to convert the LNG carrier Hilli.
"GoFLNG facilities are set to reduce the cost and time required to monetise and deliver offshore gas to market," said Michael Chia, managing director (marine & technology), Keppel O&M.
"Now a year underway, the Hilli conversion project is progressing to plan. This third GoFLNG contract re-validates our delivery timeframes and price levels, further demonstrating the technical and commercial competitiveness, and lower implementation risks inherent in our solution," Chia added.
He added that Keppel Shipyard has recently established a new design and technology arm, Gas Technology Development (GTD), to focus further efforts on solutions for LNG markets.
The work scope for Keppel Shipyard in converting the Gandria is similar to that for the two earlier contracts. The Singapore-based yard will provide the design, detailed engineering and procurement of the marine systems and all of the conversion-related construction services.
Keppel Shipyard will also again engage Black & Veatch to provide design, procurement and commissioning support services for the topsides, as well as the liquefaction process.