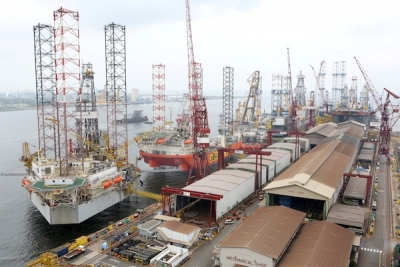 Keppel Offshore & Marine (Keppel O&M) has received no payments since November 2014 from Sete Brasil on six semi-submersible rigs it has on order from the Singapore yard group.
Keppel's BrasFELS unit is building six DSSTM 38E designed semi-submersibles drilling rigs for Sete Brasil. Of these the first three are rigs are 90%, 63% and 36% completed.
Loh Chin Hua ceo of parent Keppel Corp said, "We have not seen payments since November [2014] on these projects." He noted that Sete Brasil was still undergoing restructuring and that the group had had a "small cash outflow" on the projects in the second quarter. Keppel has also slowed down construction on the rigs.
Loh also noted though Sete Brasil's ultimate customer Petrobras still required the rigs.
Asked if Keppel might consider financing some of the later rigs Loh said they were in discussions on how best to finance the fifth and sixth rigs, and any changes in any terms of the contract.
As to how much the delivery of the rigs might be delayed Keppel O&M ceo YY Chow said they had had discussions with Sete Brasil on what the delivery dates would be if they resume payments in the next few months. He said that if they restarted payments in November, which would be a 10-month delay, the delivery for the rigs would be less than 10 months.