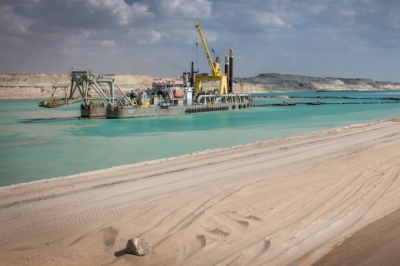 Egyptian President Abdelfattah El-Sisi unveiled the New Suez Canal yesterday in a speech steeped in rhetoric underlining his determination to defeat Islamist foes who have for two years used the Sinai Peninsula as a base for attacks on the military leadership of the Arab world's most populous nation.
"History will judge that Egypt and its people confronted the most dangerous, extremist, terrorist thinking, which, had it prevailed, would have set the world ablaze," said El-Sisi in speech, after signing a decree officially opening the canal to global shipping.
"We promised a gift to the world and we accomplished it in record time—an additional artery for prosperity and for connecting civilization to enhance the movement of international trade," he said, as the first vessel, containership CMA CGM Titan, blew its horn and passed through the canal.
Giving a nod to the moderate Islam represented by Cairo's main seat of religious learning, he said: "Egypt and its people also contributed by promoting the tolerant values of Islam through Al Azhar and its honourable scholars, who actively contributed in renewing the religious discourse and rectifying it."
El-Sisi underlined that the next item on his agenda was the Suez Canal Area Development Project, a plan to develop massive industrial and logistics zones along the banks of the canal to take advantage of global trade and boost employment in a nation of 90m people.
"The government will immediately start its implementation by developing the East Port Said area, including the expansion and development of East Port Said harbour and the adjacent industrial area. In addition, we will upgrade the area's infrastructure and link it to other projects," El-Sisi said.
Further development of the canal area will entail establishment of an international economic zone encompassing a number of ports, new cities and logistical and trading hubs that will increase commerce between Egypt and the world.
El-Sisi is also intent on what he called "a massive national road network, developing the agricultural sector with the reclamation of one million feddans (420,000 hectares) and building a number of new cities to accommodate population growth."
A new port is be constructed at Al Adabia, just north of DP World's Ain El Sokhna facility, while new bunkering and ship repair facilities are expected to be built at Suez. "Work will begin on a number of new ports and industrial development expanded by promoting small and medium-sized enterprises."
Boarding the Royal Yacht El-Mahrousa once used by Egyptian royals, El-Sisi proceeded up the canal to Ismailia escorted by a fly-past of squadrons of F-16 and Rafale jets and 10 army helicopters.
The full might of Egyptian ceremonial panoply was brought to bear, as army top brass and honour guards decked in ceremonial uniform, some with Pharaonic accessories, trumpeted the success of Egypt's latest leader, who seized power in a 2013 coup to take office a year later.
El-Sisi's day even included a change of clothes, as he boarded the yacht in the uniform of a senior Egyptian army general, only to change into civilian clothing for his speech.
Boskalis, one of the six international dredging companies that participated in the expansion project, depicted the works to deepen part of the canal to over 20 m a "race against the clock."
"The Suez Canal is a key corridor on the East-West trade. Maersk has used the corridor for more than 90 years and we welcome the easier transit and reduced transit times that the new expansion will bring," said Maersk Group representative and ceo of Maersk Drilling, Claus Hemmingsen.
Maersk said earlier this week two of its vessels were due to cross the canal yesterday. At 14.09 GMT the 10,457 teu Sofie Maersk was poised to enter the canal at Port Said, while the 9,038 teu Mathilde Maersk was in the Mediterranean 200 km north of Tobruk, Libya, at 21.02 GMT, bound for Antwerp.
On a visit to New York last year to speak at the UN, El-Sisi gave little indication in an interview with CBS's Charlie Rose that he had any other plan in mind than continuation of a military siege mentality. He repeated much of this thinking yesterday, declaring the project was a "triumph over terrorism."