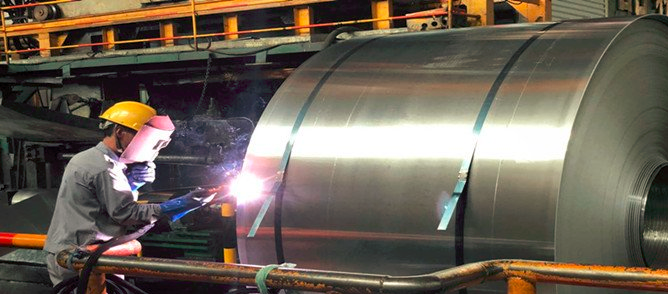 Five months has passed since the United States slapped tariffs on Chinese aluminum imports. To offset the negative effects it brought, aluminum manufacturers in China are diverting their exports to other countries such as Canada, Japan and those in Europe.
Walking into the plant of Mingtai Aluminum Industry Co.,Ltd. - an aluminum manufacturing company in central China's Henan Province - the hot rolling process is busy producing aluminum plates, which every year produces about 530,000 tons of aluminum products alone.
As one of China's leading privately-owned aluminum makers, Mingtai exported a total of 200,000 tons in 2017, with half of the sum going to the US.
In March, President Donald Trump went on the record as saying the US will rebuild its aluminum industry by imposing a lengthy ten percent tariff on aluminum imports, and the company thus had to face a tariff of 212 percent, covering both anti-dumping and countervailing duties.
"The impact is enormous. We sent nearly 100,000 tonnes of aluminum to the US last year, almost half of our total exports, but since March, with the hefty tariffs in place, our export to the US to date stands at zero," noted Liu Jie, general manager of the Henan Mingtai Aluminum Industry.
Nevertheless, official figures show that the company's exports in the first half of 2018 reached 100,000 tons, a 6.6 percent increase year-on-year.
"In a bid to turn things around, we switched our attention to other regions and countries instead of the US, targeting the markets of Europe, Australia, South America and S. Korea. So far, exports to these places are almost comparable with our prior sales to the US," added Liu.
The influencing factors behind growth
China's overall aluminum exports in the first half of 2018 is up to 2.7 million tons, recording a 12 percent year-on-year gain, says Business Insider quoting China's Ministry of Commerce (MOFCOM).
Analysts say the US aluminum tariff scheme plays more havoc on Canada, the biggest aluminum exporter to the US, than anybody else and China's recent growing exports are probably more akin to Europe's recent increase in exports as US consumers stock up on materials ahead of the implementation of the new tariffs.
"It's because China is not the main exporter to the US. The price rise of aluminum products in the global market, conversely, grants China's aluminum industry more shares," said Liu Chunsheng with the Central University of Finance and Economics.
Liu also warns that Chinese manufacturers ought to capitalize on other alternative markets while the damage done by the tariffs remains mild.
Observers with MetalMiner also attribute China's rising aluminum exports to Europe to the US sanction on Russia's United Company Rusal, which constitutes nearly nine percent of the world's primary aluminum output and nine percent of the world's total alumina yield.
"That alone is going to be the key driver of China's aluminum exports if European producers are priced out of their own markets by high London Metal Exchange (LME) prices and outcompeted by Chinese producers accessing plentiful domestic primary metal," said Stuart Burns on MetalMiner.