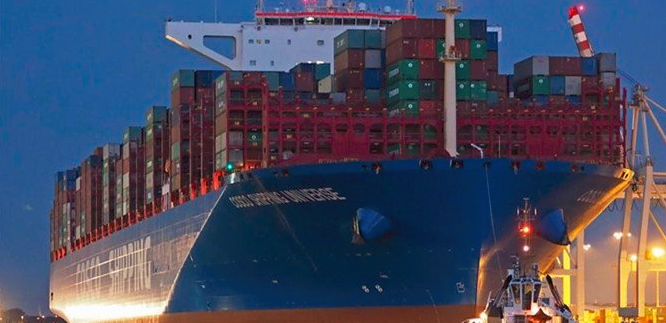 China's largest ocean container ship returned to Yangshan Port in Shanghai on Thursday after its 77days' maiden voyage between Far East and Europe.
The ultra-large container ship named Cosco Shipping Universe is 400 meters long and 58.6 meters wide, with a size of approximately four football fields. It can load 21,237 twenty-foot equivalent units (TEUs).
The ship set off from north China's Tianjin Port in June and reached Europe before heading back, passing through 13 ports along the route of 22,000 nautical miles. It operates on shipping lanes that coincide with the ancient Maritime Silk Road.
The ship delivered food, fitness equipment and furniture from China and transported automobile spare parts back.
The ship is equipped with an intelligent loading system, allowing containers to be loaded according to different destinations.
Owing to its extra-large size and loading capacity, COSCO Shipping Universe has attracted the attention of European ports, receiving many commemorative plaques along the way.
Ultra-large container ships have been a leading player in the international shipping market in recent years. There are currently five similarly sized container ships under construction in China.