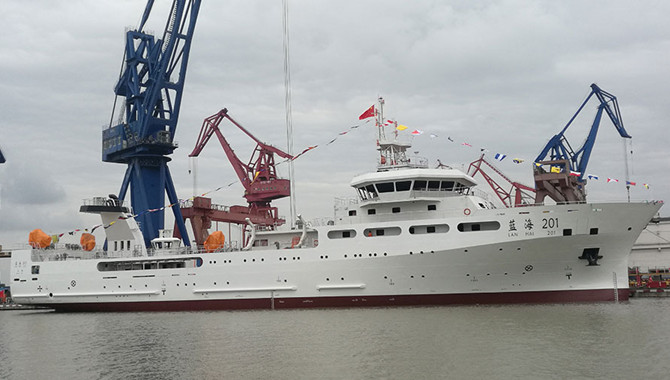 Researchers from Chinese Academy of Fishery Sciences are building the country's two largest marine fisheries research vessels.
The main bodies of the two vessels, namely Lanhai (Blue Ocean) 101 and Lanhai 201, were completed Wednesday in Shanghai. They have been put into the water and supporting equipment will be installed in the future, according to the academy.
Weighing 3,000 tonnes and measuring 84.5 meters in length and 15 meters in width, each vessel has a cruising power of 10,000 nautical miles and will integrate advanced technologies.
The vessels are capable of collecting and analyzing data and samples in various missions, such as fisheries resource survey and assessment, fishery ecological environment monitoring and research and tests on fishing gears and techniques.
Cui Lifeng, the academy's chief, said that the vessels will play a key role in China's marine fishery research in the following 10 years, and will help improve the abilities to manage marine fishery resources after they are put into use.