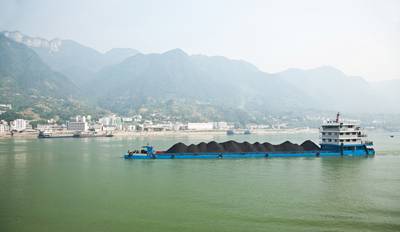 China's coal imports dropped sharply in August from the month before, customs data showed on Friday, after cooler weather crimped demand from utilities and as a typhoon disrupted supply.
Total arrivals last month fell 12 percent from August to the lowest since May at 25.14 million tonnes, data from the General Administration of Customs showed. Volumes were also down more than 7 percent from the same month last year.
That came after utilities curbed buying as weather cooled earlier than normal in northern China, prompting households and businesses to turn off their air conditioners.
"The earlier arrival of autumn cooled the coal market in September," said a trader at state-owned Minmetals.
"But we are expecting the upcoming winter heating season to bring back demand from utilities," he added, declining to be identified as he was not authorized to speak with media.
On the supply side, traders said Typhoon Mangkhut in mid-September hit the unloading of coal cargoes at the port of Guangzhou in southern China.
China's largest coal port, Qinhuangdao in the northeast, also took temporary steps to restrict coal unloading in September as part of the country's campaign against pollution.
Total coal imports in the first nine months of 2018 climbed 12 percent from the same period last year to 228.96 million tonnes, the customs data showed.