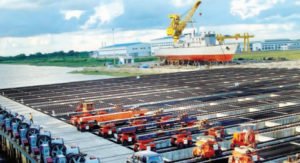 CAMC Engineering announced that the company has inked commercial contract with Directorate of Procurement, Office of the Commander-in-Chief (Army) Myanmar for the third phase project development of Myanmar Thilawa Shipyard.
The $210.55m construction project includes a new 40,000 tonne drydock, terminal and auxiliary facilities. The project is scheduled for completion within 72 months.
The contract will be beneficial for the company to expand industrial engineering market and strengthen the company's position in Belt and Road countries, China CAMC Engineering said in the announcement.
Myanmar Thilawa Shipyard was constructed by China CAMC Engineering. The project included building a shipyard that allows for combined shipbuilding and ship repair services, with an annual shipbuilding capacity of five 1,500-3,000 dwt ships and an annual ship-repairing capacity of fifty units of 1,500-3,000 dwt ships. The project was completed in February 2002.
China CAMC Engineering is affiliated to China National Machinery Industry Corporation. The major business of the company covers engineering procurement construction projects, domestic & overseas investment and trading.