Weekly Dry Bulk Observation
The international dry bulk market ended last week with the Baltic Dry Index (BDI) at 1153 points, a drop of 12.9% from a week ago.BCI decreased 29.2% with respective rise of 6.2% and 4.7% for BPI and BSI. Due to less shipment and over capacity, capsize rates decreased significantly last week. In total, 384 dry bulk vessels were charted in November, including 153 capasize vessels (at the same level with last year), 168 panamax vessels (-20%) and 63 handymax vessels (-43%).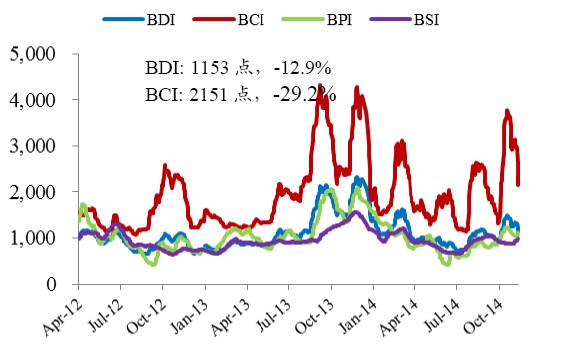 Capesize vessels
Capesize market, the carogs in Atlantic area decreased and the charterers largely undercut the rates. Freight rate for iron ore shipment continued to decline. there were more vessels coming to Pacific market. All of these have driven freight rate down. The spot price of Chinese imported mine smalls 525 yuan/wet tons (-0.9%) and ore fines 500 yuan/ wet tons (-3.8%). Capesize rates ended last week averaging $22,525/day, which was an increase of $1,865 (9%) from a week ago. Capesize rates ended last week averaging $18.0/ton (-9.3%)from Tubaro to Beilun/Baoshan and $7.9/ton (-6.6%)in West Australian ports to Beilun/Baoshan.
Panamax Vessels
Panamax market, due to more capacity in Pacific market, the freight rate confronted downward pressure. Grains trades in US gulf were limited, causing slight drop of freight rate in panamx market. In the time charter market, most recently, a 70,000 dwt vessel was chartered for $9,681/day, rising 11.3%.
Dry bulk fleet
Last week there were 7 dry bulk vessels delivered with tonnage of 576,000 DWT. 8 vessles were scrapped with tonnage of 390,000 DWT. The overall capacity: the number reduced 1 vessel but new capacity increasing 186,000 DWT. The previous week saw 15 vessels delivered and 9 vessels scrapped. The new capacity was 8 vessels with tonnage of 686,000 DWT.