Weekly Dry Bulk Observation
The international dry bulk market ended last week with the Baltic Dry Index (BDI) at 982 points, a drop of 14.83% from a week ago.BCI, BPI and BSI respectively decreased 40.40%, 2.86% and 1.52% to 1282 points,1088 points and 971 points. Last week dry bulk shipping market was not optimistic with a significant declining of freight rate of capsize vessels, affecting the trend of BDI.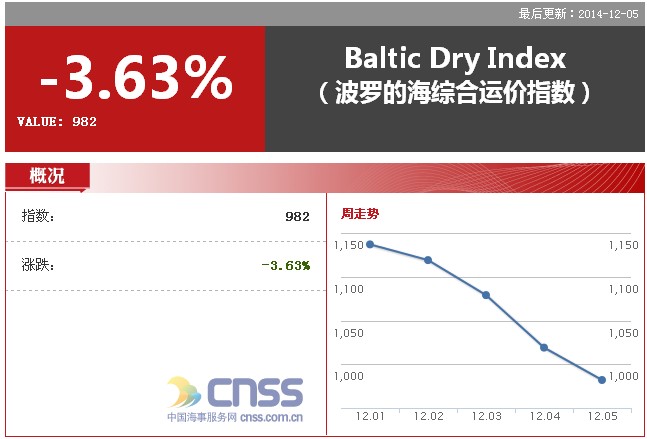 Capesize market
In capesize market, iron ore market has experienced less shipment but with large shipping capacity last week. Both Australia-China route and Brazil-China route were delivered softly and the market sentiment was negative. The rate of two Tubaro/West Australia routes declined 10.4% and 21% week-on-week respectively to $15.8/ton and $6.1/ton. Chinese coastal iron ore inventory last week reached 105 million tons with a drop of 1.75%, but still at a high level. The time interval between Christmas Day and Spring Festival is long, so there will be two seasonal rallies in the market. Whilst the cape market is developing from bad to worse, owners are still hoping there will be one last rally before the Christmas hollidays. A 170,000 dwt vessel was chartered for 1 year was $13,000/day.
Panamax market
Panamax market saw declining last week. The grains shipment from US gulf to Far East market were insufficient. The demand for vessels was weakening.Therefore, rates in Pacific and Atlantic present downward trend.In time charter market, the average of daily charter for four time charter voyages was $8676 with a drop of 2.9% week-on-week.A 75,000 dwt vessel was chartered for 1 year was $8,800/day.
Handysize
The Atlantic market has been pretty stable and balanced this week. Mid week we see some signs of rates sliding but not to a big extent. W-O-W it seems flat, but with a slightly growing tonnage we see signs of what could be a small correction. In the Feast rates are also stable but with a more positive touch to it. SE Asia rounds are paying ard Usd 10-11k where India Rounds are being fixed in region of Usd 12k. We also see a firmer NoPac market were rates have moved up to low 10k bss NChina delivery. The period market has been fairly active where Supras can achieve low 10k for same while the smaller 46 ́s see the mid 9 ́s. In time charter market, a 53,000 dwt vessel chartered for 1 year was $10,000/day.