On the first week of 2018(January 2 to 5), the International Grain Future Freight (IGF) reported the Panamax forward freight rate of U.S. Gulf-Tianjin route (soybean) from March to May 2018 a total of 4 times due to New Year's holidays, the trend is shown as figure below.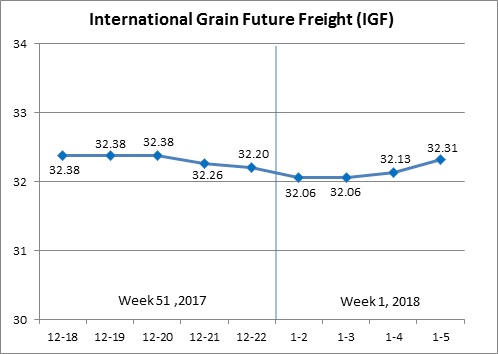 South American soybean is in the critical period of growth. With the arrival of rainfall in Brazil and Argentina, the market has eased concerns about La Nina's drought. This week's weather forecast says there will be more rainfall in the South American soybean production area which will boost South America Soybean output expectation.
For the shipping market, the forward freight rate fell slightly by US$ 0.14 a ton from the pre-holiday level on Tuesday, January 2, and remained stable on the following release date. From Jan 4th to 5th (Thursday to Friday), the forward freight rose slightly for a consecutive period, ending at US$ 32.31 / ton, went up 0.35% compared with December 22, 2017 (the last release day of Week 51 of 2017).