On the sixth week of 2018(Feb.5 to 9), the International Grain Future Freight (IGF) reported the Panamax forward freight rate of U.S. Gulf-Tianjin route (soybean) from June to August 2018, the trend is shown as figure below.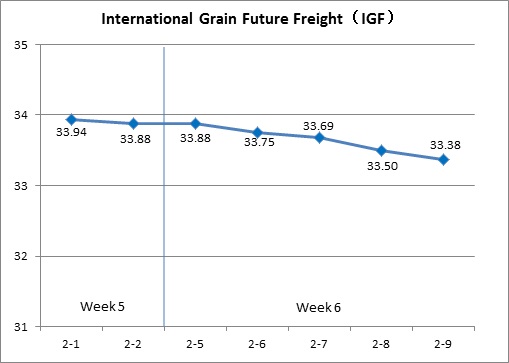 At present, Brazil's soybean harvest has been completed at 6.4%, lower than the same period of previous year which was 10.1%, slightly higher than the average harvest progress of 6.3% over the same period of the previous five years. The drought in Argentina and the high temperatures in the production areas have affected 40% of the soybean yield in Argentina.
In shipping market, forward freight rates remained at US$ 33.88 /ton on Monday (Feb.5) and then showed a sustained slight downward trend. The freight rate continued to decline between Feb.6 and Feb.9 (Tuesday-Friday) and eventually closed at US$ 33.38/ton, down 1.48% from Feb. 2 (the last release day of Week 5).