On the seventh and eighth week of 2018(Feb.12 to 23), the International Grain Future Freight (IGF) reported the Panamax forward freight rate of U.S. Gulf-Tianjin route (soybean) from June to Aug. 2018 five times due to the Spring Festival, the trend is shown as figure below.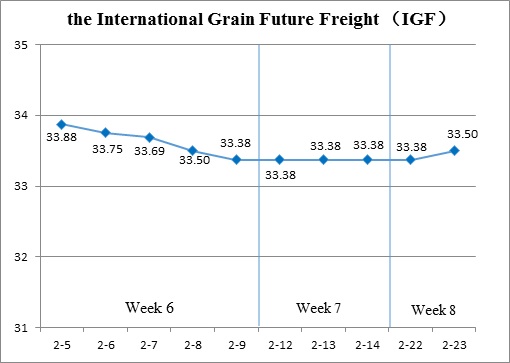 During the Spring Festival, there was rainfall in Brazil's soybean-producing areas. And the harvest progress was affected and was completed 17% which was lower the 26% of last year. As to the yield prediction, the research institution predicted that the yield of Brazil soybean in 2017/18 year would be the historical 115.6 million tons.
In shipping market, the forward freight rate was stable before the Spring Festival. It was kept at US$ 33.38/ton from Feb.12 to Feb.14 (Mon. to Wed.). After the vacation, the freight rate kept the same level on Feb.22 (Thu.) and then increased slightly. Finally, it was closed at US$ 33.50 / ton with an increase of 0.37% from Feb.9 (the last release day of Week 6).