Only three days (Apr.02-Apr.04) of the International Grain Future Freight (IGF) updates because of Tomb Sweeping Day in Week 14. The IGF reported the Panamax forward freight rate of U.S. Gulf-Tianjin route (soybean) from Jun. to Jul. in 2018, and the trend is shown in the chart below.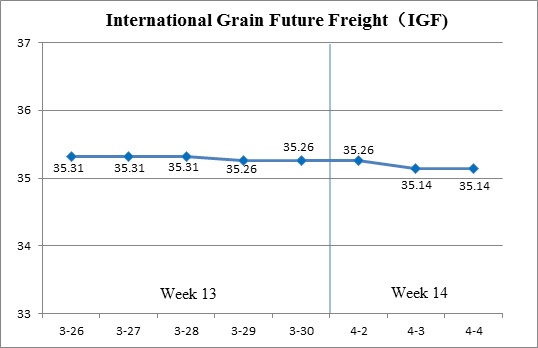 In April, the soybean reaping in Brazil enters into the final rush and that in Middle and Western areas tends to come to an end. It is estimated that the production of soybean in Brazil will totally be up to 117.9 million tons. Soybean in Argentina gets to enter into reaping, but what is unlucky is that the raining is unfavorable for the production of the soybean, which will be doomed to resulting in the reduction of the output of soybean.
In terms of the shipping market, the future freight rate on Apr.02 (Mon.) kept $35.26/ton, and then slightly declined $0.12/ton, finally being closed at $35.14/ton on Apr.04 (Wed.), decreasing 0.35% compared with that on Mar.30 (the last release day of Week 13).