Week 15, 2018 (Apr.09- Apr.13), the International Grain Future Freight (IGF) reported the Panamax forward freight rate of U.S. Gulf-Tianjin route (soybean) from Jun. to Jul. in 2018, and the trend is shown in the chart below.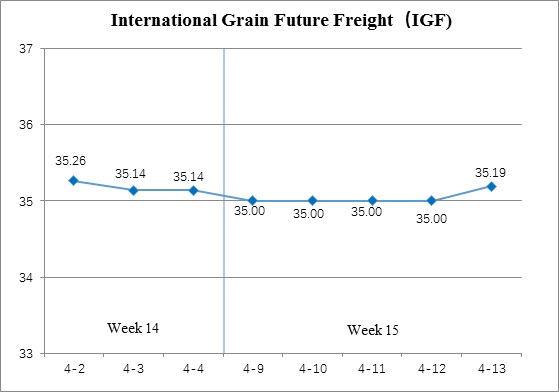 Now, the soybean reaping in Brazil has been completed 85%, though 2% lower than that in the same period last year, having bridged the gap. And it was higher than average for the past five years (84%). The soybean reaping in Argentina, said by Buenos Aires Cereals Exchange, has completed 15.3% by Apr.04, higher than that in the same period last year. It is estimated that the soybean production will declined to 3.8 million tons, decreasing 34%, compared with that in the same period last year.
In terms of the shipping market, the future freight rate on Apr.09 (Mon.) decreased $0.14/ton, and then remained $35.00/ton from Apr.10 (Tues.) to Apr.12 (Thur.). At the end of the week, after experiencing a slow rise, it closed at $35.19/ton, increasing 0.14% compared with that on Apr.04 (the last release day of Week 14).