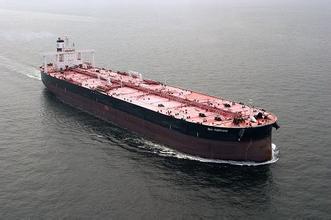 The Brazilian miner and the world's largest iron ore producer Vale S.A. has agreed to sell 10 very large ore carriers to South Korea's Polaris Shipping en bloc. About 600 million US dollars are expected to be raised from this deal, and all these vessels will be chartered back under long term contract.
The VLOCs that have been sold are suggested to be ten 30,000 dwt vessels acquired by Vale during 2009 and 2010, and all of them were converted from VLCCs.
The deal is among Vale's recent moves to restructure its assets and overwhelm its financial situation. As the company's profit keeps running negatively comparing with previous years due to the higher cost of production, the lower price of commodity and the shrinking demand especially from China, Vale is eager to dispose some of its troubled assets. According to Bloomberg, Vale has cut assets accumulated to a total value of 1.2 billion US dollars. Before losing weight on its fleet, the giant has already sold a thermal coal project in Colombia for $407 million, its ferromanganese alloy businesses in Europe for $160 million and exited the kaolin mineral business.
To build its own fleet at the very beginning has drawn speculation from some investors arguing the potential risk of shipowning and operating. After spending too much money on Valemax vessels, it is a wise strategy to pocket some cash back through this deal given the dim rate and great uncertainty of the shipping market today. And the 60 million US dollars price for each vessel is quite beyond the average value of a similar vessel.
Polaris on the other hand is expecting to gain more market shares by adding 10 VLOCs to its fleet. Its affordability of the deal I trust is from the creditors' confidence and support after signing the fresh transport partnership with KEPCO.