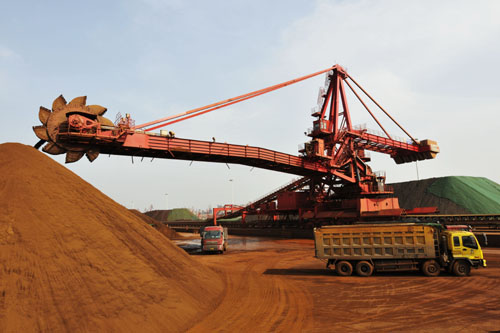 The current adjustment in domestic real estate market is bringing down the demand in domestic steel market, which directly leads to the new low of BDI over ten years, therefore the dry bulk shipping market pervades the general air of pessimism. While two powerful guests in the World Shipping (China) Summit 2014 told CNSS's reporter that international iron ore shipping market now is experiencing a transition from a sellers' market oversea to a buyers' market in China, and the iron ore shipping market in China is expected to show signs of a rise in the next two years.
This unique idea was proposed by Mr. Cao Huiquan, the Chairman, Hunan Valin Iron and Steel Group and Mr. Li Hongjiang,the Deputy Director of Industrial Products Department, Dalian Commodity Exchange. Mr.Wang Xiaoqi, the Vice Chairman, China Iron and Steel Association (CISA) also agreed with the idea.
Mr. Cao Huiquan thought that the steel demand in China will reach 7 to 8 billion tons before 2020, while the international price of steel has declined as low as that in 20 years ago, which means more opportunity than challenge for Chinese steel companies. Moreover, the shipping volume of iron ore cargo accounts for 40% of all dry bulk cargo volume, so iron ore shipping market will facing a more promising future.
Mr. Li Hongjiang strongly agreed with Mr. Cao's idea and added that after the issue of iron ore futures by Grand Exchange, the domestic iron ore price continues to fall which has accelerated the reshuffle or even collapse of iron ore industry in China. Mr. Li Hongjiang concluded that the strong the demand of domestic iron and low price of oversea iron ore cargos result in more low price import iron ore for Chinese competitive steel companies, which is, of course good for them.
Mr.Wang Xiaoqi also provided some strong support for the above idea. He noted that CISA's data shows that despite of the low price of current iron ore, China's steel companies' economic results are keeping rising.