Not by any surprise, the Norwayshipping giant John Fredriksen has recently sent Front Alfa to scrapping. The 1993 built 150,000-dwt tanker was from his tanker arm—the Frontline Ltd. Suffering the strike from suezmax market, the old tonnage has nowhere to benefit from trading. Even though the last dry docking for her was just finished last July inChina, she was still given a death sentence.
Managed by V. Ships and Classed by DNV, the vessel had a proven record of successful fortune making. Should only there be no dramatically downturn of rate since the middle of 2010 (see below chart), and no oversupply of new tonnage in 2011 (The tanker fleet grew by 26.1 million deadweight tonnes, or 5.8 percent, during 2011 comparing to 4.1 percent in 2010.), the 19 year old veteran would see a slight recovery this year. But we can only say farewell now.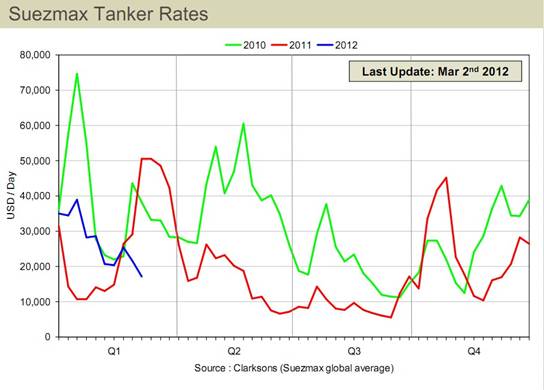 The good news is, based on the forecast from International Energy Agency (IEA) and the Organization of Petroleum Exporting Countries (OPEC), global oil demand is expected to grow by 1.0 mb/d in 2012. And this increase oil demand will for sure lead to a demand for more tanker tonnage. But the prince always has a dragon to fight before kissing the princess. The positive oil demand growth will only surpass the supply growth by the second half of 2012 under current delivery/demolition rate. Therefore, we have to witness more weight losing from owners like the big John.
As of last week, the tanker tonnage sent to breakers has reached 3 million dwt and is expected to pass 18 million dwt by the end of the year. Everyone is struggling in this depressed market: old tonnage has to be cleared out for the new tonnage to get a better employment.
According to Frontline's annual report, it records a net loss attributable to the Company of $529.6 million and a loss per share of $6.80 for the year ended December 31, 2011.
With interests also in the LNG and dry bulk fleet from Golar LNG and Golden Ocean Group, the shipping giant Mr. Fredriksen certainly has more weight to lose to keep healthy.
The total demolition tonnage has reached 10 million dwt since the beginning of 2012, withIndiaandChinaas the most attractive destinations.