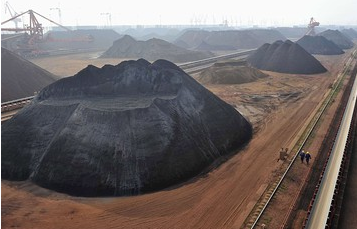 China's Bohai Commodity Exchange hopes to increase its influence on the pricing of iron ore with a plan to make yuan-denominated contracts available to overseas investors, but the latest effort to capitalize on the internationalization of the Chinese currency faces daunting hurdles.
Late last month, the People's Bank of China601988.SH -0.40% approved the Bohai bourse's application for the first cross-border commodity contract offered out of China, and the physical iron-ore contract is expected to make its debut in the first quarter, the exchange's Vice General Manager Zheng Yu recently told the Wall Street Journal.
Mr. Zheng said the exchange wants to target Australian investors at the outset, and then gradually expand its reach to target investors in South America, namely countries like Brazil, another key source of China's iron-ore imports.
It will be as simple as opening a yuan account at an Australian branch of the Bank of China or China Merchants Bank600036.SH +1.05% and registering with the Bohai exchange, Mr. Zheng, said. This will position Australian miners, for example, to trade directly with buyers such as Chinese steel mills, he added.
But even Chinese steelmakers don't seem too excited about this prospect.
"I doubt this Bohai contract will gain much traction because nearly all of China's iron-ore trade is settled in dollars, and there's little interest or incentive to settle in the yuan," said an iron-ore manager at Baoshan Iron & Steel Co.600019.SH -1.54%, the listed unit of Baosteel Group, China's third-largest steelmaker by output.
Baoshan Iron and its iron-ore suppliers use the U.S. currency to settle their contracts, as it is the standard currency in global commodity trade, the company said. That is around $4 billion that Baoshan Iron spends on roughly 40 million tons a year of iron ore, the manager said.
Australia accounts for two-thirds of China's iron-ore imports, which hit a record 77.84 million metric tons in November, and traders estimate the total for 2013 will be 800 million tons—valued at more than $107 billion based on current prices.
While Australian companies are likely to be studying the planned contract, people familiar with the largest miners say the Bohai exchange isn't likely to see a significant or swift uptake, as such companies like to trade in U.S. dollars to limit currency risk.
Although the Chinese government is implementing financial reforms that in part will lead to increased use of the country's currency overseas, the yuan is currently being used to pay for just 0.8% of all global transactions, lagging currencies from much smaller economies, including Thailand and Sweden, according to a report from Swift last month.
Nevertheless, the yuan did recently overtake the euro and the yen to become the No. 2 currency used in global trade finance, the Swift report showed, with importers and exporters using China's currency for 8.7% of their financing agreements with trade partners in October.
Even the Bohai exchange's Mr. Zheng recognizes that the new contract faces a significant hurdle in becoming a global benchmark given that global miners and steel mills settle their trades each month with reference to a well-established iron-ore index provided by pricing firm Platts.
"There are different kinds of iron-ore products out there, and their [price] differences are changing constantly," said Jessica Xu, an analyst with Metal Bulletin Research, which offers an iron-ore index in competition with Platts. "An index can take those into account and reflect them, so it seems that [an iron-ore] index is more likely to fare well in the market."