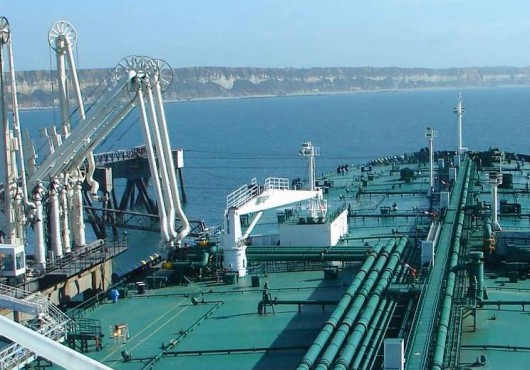 Worldscale rates for VLCCs on West Africa-to-Far East routes are at steep premiums to rates for Persian Gulf loadings due to many owners' resistance to long voyages, Platts said quoting market participants."The Persian Gulf-to-Far East route was assessed at w34 Thursday. The West Africa-to-Far East voyage was assessed at w43.50, creating an unusually wide differential of w9.50 points between the two routes.
The spread was w1 points a month ago," according to Platts data.
Even though cargo sizes and flat rates at which super tankers are chartered vary from port to port in West Africa and the Persian Gulf, the worldscale rates typically move in tandem.
"Most of the owners currently have a [preference] for short-haul voyages, as they don't want to get stuck with lower freight rates for a long duration," said a Platts source with a VLCC owner.
A chartering source with a South Korean refiner told Platts ships taking long-haul voyages from West Africa to China would get tied up for more than two months before the next voyage. In the interim, rates could rise sharply due to seasonal winter demand for stocking crude oil, the source said.
Owners want their ships to be stationed in the Persian Gulf during the next rate spike, the same source said.
In September 2013, close to 140 ships loaded in the Persian Gulf and Red Sea for east- and westbound voyages, owner sources said. That count is down to 110 so far this month but may rebound again in the next quarter and support rates in the process, they said.
"Charterers were restocking crude last September, this year it will be slightly late in November and December," said another source with a VLCC owner. "It is just a matter of time before the rates start to rise again. It makes a lot of sense to wait [rather than] fix at current low levels."
Owners are now earning close to $6,500/day on the Persian Gulf-to-Far East route compared with more than USD 26,500/day for ships fixed a month earlier, according to market participants. Earnings would have been much lower but for the latest decline in bunker prices.
At current rates, owners can earn more than USD 19,000/day on a West Africa-to-Far East voyage. But many are still not interested to take the plunge in anticipation of higher rates next month.
The owner sentiment has resulted in a reversal of freight trends. Typically shorter voyages are fixed at higher worldscale rates because the flat rates are relatively lower, but not for the time being.
The Elizabeth I Angelicoussis was placed on subjects overnight by SPC at w34 for October 7 loading on the Persian Gulf-to-Singapore route, Platts cited brokers as saying.
Owners, brokers and charterers said Persian Gulf-to-Far East voyages are expected to be done at similar levels.
A round-trip voyage between Persian Gulf and Singapore can be completed in 32 days, after which the ship can be available for the next expected cyclical uptick in rates, said a VLCC broker in Tokyo.
According to Platts, VLCC rates in the Persian Gulf are close to their lowest levels of the year, due to excess supply of ships and weak demand for loadings this month.
The total fixtures were estimated at 123 for August, including 17 for destinations in the West and 106 for the East, compared with a total of 122 in July and 107 in June, brokers said. The focus has turned to the October-loading program, and 44 fixtures are already estimated to have been done.
The four-week supply of ships fell nine day on day to 99 Friday, said a freight derivatives broker tracking the VLCC markets. There are still 83 ships available for loading until the end of the second decade of October, the broker said.
"It has been a busier week so far but rates are still not moving up as tonnage remains well supplied," he said.