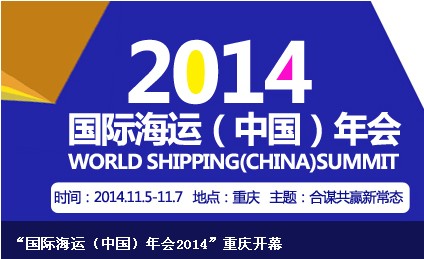 The World Shipping (China) Summit 2014 is held Nov. 5 to 7 in Chongqing, the first ever host city in the inland and western region of China and on the upper reach of Yangtse River.
Journalist from China Shipping Service (CNSS) attended this summit. He said that this summit will carry out brain storming in authoritative foresight, top views, industrial insight, market forecast, reviews new horizon, new ideas and new strategy in shipping development.
Themed on "adapting to new norms", the World Shipping (China) Summit 2014 gathered the high-level stakeholders and decision makers of shipping community in the inland city of Chongqing. The summit will be designed to address the most pressing issues and challenges faced by the industry.
In the past decade, COSCO, DREWRY, MARITIME CHINA and JOC (Journal of Commerce) successively co-organized the "World Shipping (China) Summits" in Beijing, Shanghai, Shenzhen, Tianjin, Dalian, Qingdao, Guangzhou, Boao, Xiamen and Ningbo. Each of the Summits was actively participated by hundreds of influential leaders from the maritime world including shipping carriers, shippers, port operators, shipbuilders, government officials, regulators, scholars, bankers, lawyers and other related industry professionals.