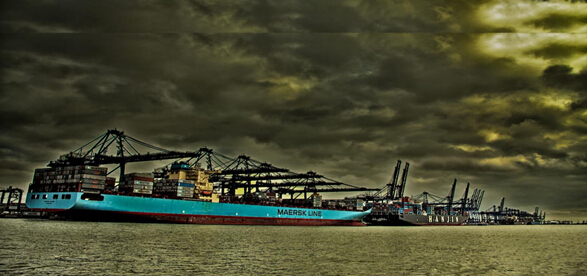 LA-Long beach congestion has reached a boiling, on Tuesday there was more than 20 container ships at Anchor on Tuesday waiting to offload their cargo.
Trans-Pacific route vessels have been so far off schedule in recent weeks that a few lines have no vessels available to carry cargo back from asia, as all the vessels are stuck at anchor on the west coast. Vessels have been spending around 10 days at anchor on average waiting for their chance to offload cargo.
While container vessels languish off the West Coast, waiting for the congestion to clear up in West Coast ports, negotiations for a new contract between the ILWU & PMA are dead in the water at the moment.
The two sides made some progress when they agreed to allow ILWU mechanics to inspect all trucks before leaving the terminal, but since then the negotiations have gone no where while containers and vessels pile up in waiting.
Recently the ILWU negotiators returned to the negotiations with more than a dozen jaw-dropping new demands, most of which the PMA opposes and considers quite controversial.
Port conditions are just at bad at other West Cost ports. In fact, because of the congestions several lines have begun to scale back their service to the Oakland and other Northern California ports because of the congestion. If this trend continues, many ports could simply see their long shore jobs disappear.
Maersk announced that they would be terminating some vessels at L.A. Long Beach, offloading the cargo there and shipping it north by rail. Currently vessels off-load majority of their containers at L.A. long beach, proceed to Oakland, off-load the remaining containers and then head back to Asia.
On Tuesday it was reported by the Oakland port authority that there were more than 5 vessels anchored at port, and more than 15 vessels waiting on the other side of the Golden Gate Bridge.
The duo-ports of Seattle-Tacoma are also clogged up with containers; the Seatac port authority reported more than 10 Vessels at anchor and waiting berthing spaces.
The PMA has accused the ILWU of Sea-Tac of the same labor slowdown that is affecting L.A.-Long Beach. The ILWU denies that they are slowing down productivity in the Northern ports from Oakland – SeaTac, but the PMA has kept a log of crane moves per day and per hour, and says they have concrete proof the ILWU is engaging in labor slowdown in the SeaTac ports.
With terminal congestion and vessel backlogs now at a crisis level, time is quickly running out, and there appears to be a growing call among cargo interests and indeed some employers that more drastic actions be taken.
Questions / Comments? Contact: Mark@cmaritime.com.cn