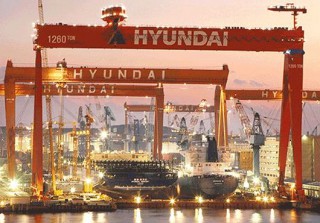 The world's largest shipbuilder Hyundai Heavy Industries (HHI) recorded a loss of USD 2 billion (KRW 2.21 trn) in 2014 as opposed to KRW 146.3 billion profit in 2013.
The South Korean shipbuilder's full year revenue dropped 3% year-on-year totaling in KRW 52.58 trn.
The full year figures were in line with expectations as HHI continued its losing streak throughout 2014, recording KRW616.6 billion and KRW1.175 trillion losses in the second and third quarter of 2014 respectively.
The fourth quarter was considerably better for HHI, as its net loss dropped from 227.8 billion won in 2013 to 37.9 billion won in the October-December period.
Growing competition from Chinese shipbuilders and slumping demand from European owners have been signled out as main culprits for the demand slump at HHI, in addition to falling of oil prices.
The shipbuilding conglomerate has resorted to restructuring measures that saw lay-offsand closing of unprofitable business branches such as those engaged in renewables so as to steer back to profit.