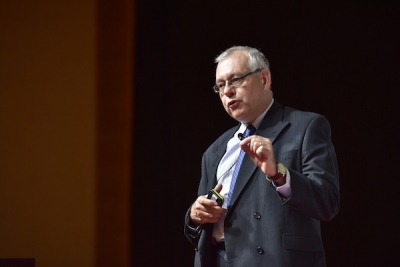 The bad news: there will be at least two and a half years more of pain for the dry bulk sector.
The good news: with the ordering boom having come to an end and scrapping starting to gain traction, there could be some changes to fleet growth by as soon as the early part of next year, according to Braemar ACM Shipbroking group research director Peter Malpas.
Speaking on the dry bulk panel at the Sea Asia 2015 Conference, Malpas noted that March this year has seen record scrapping activity among bulkers with more than 5m dwt going to the scrapyard while about 10.1m dwt was scrapped in the first quarter of this year.
"If we continue scrapping at that rate, we will see fleet growth start to change by the early part of next year and the oversupply will be starting to erode by the end of 2016," said Malpas.
"So while there is still a significant amount of overcapacity there is some light at the end of the tunnel and towards the second half of 2017 we will start to see some support for the market," he added.
Malpas also suggested that newbuilding prices would start to slide but with limited downside. "Newbuilding prices are starting to come down but I don't think this is going to lead to a significant ordering phase that we saw in 2013," he said.
With almost no fleet growth in the capesize market this year, there may even be prospects of some spikes in freight rates as early as second half of this year when demand from the major markets kick in according to Berge Bulk Singapore ceo James Marshall.
Looking ahead, Noble Chartering head of freight Michael Nagler was not too optimistic, but said there could be the possibility of surprise spikes during the year due to short-term supply constraints.
Norden vice-chairman and interim ceo Klaus Nyborg meanwhile said he has already written off the rest of the year, and has concerns about excess capacity on a number of fronts. As a result he sees no reason for optimism until at least 2016.
"There is a lot of negative sentiment out there but there are some signs albeit small that there is an end in sight of this depressing period," concluded Malpas.