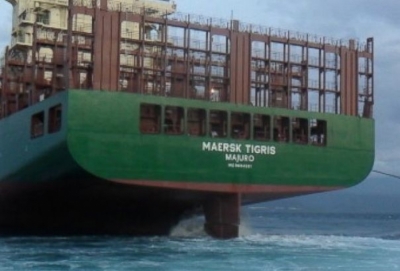 The Rickmers Group and Maersk Line have confirmed that the Maersk Tigris and its 24 crewmembers have been released by Iranian authorities.
A court order from Bandar Abbas was issued following Maersk Lineproviding a letter of undertakingfor the court case underlying the dispute that led to the vessel being intercepted.
"All crew are in a good condition," a press release from Rickmers stated.
The Maersk Tigris was seized by Iranian authorities in the Strait of Hormuz on April 28 in an incident which saw shots fired across the ship's bow by the Iranian Navy as the ship went about its business between Jeddah and Jebel Ali.
The vessel, time chartered to Maersk, was seized over a 10-year old court case with Iran's Pars Tala'eyeh Oil Products Co, which on appeal Maersk had been ordered to pay $3.6m in compensation.
Maersk said: "The release follows a constructive dialogue with the Iranian authorities, including the Ports & Maritime Organization, and the provision of a letter of undertaking in relation to the underlying cargo case. We will continue our dialogue with the aim to fully resolve the cargo case."
Rickmers added, "The management of Rickmers Group and everyone in the company are delighted that the vessel is no longer held under Iranian control and its valued seafarers are able to resume their normal life and continue their voyage.