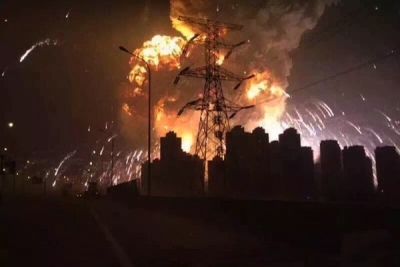 Chinese authorities in Tianjin have ordered a relocation of companies that handle dangerous chemicals to industrial zone following the deadly explosions at Tianjin port in mid-August, reports said.
The government of Binhai New Area in Tianjin said such companies would need to relocate to Tianjin Nangang Industrial Zone, located at least 30 km from the explosion site and 10 km from the nearest residential area, Xinhua reported.
The Nangang area covers some 200 sq km and it aims to become a world-class port and base for the heavy chemical industry.
Tianjin port suffered massive explosions in August caused by highly flammable goods stored in a warehouse, leaving more than a hundred people dead and scores injured, as well as ruining nearby buildings and sending toxic pollutants into the air and water.
The Tianjin authorities said they are conducting safety inspections on companies handling dangerous chemicals, and are increasing housing land supply in the affected area to those in need.
They added that a third-party organisation will be authorised to enact and release evaluation reports on the environment, safety and ecology.