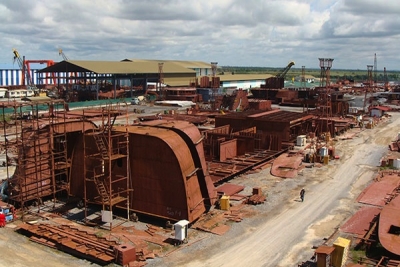 Kuala Lumpur-headquartered Nam Cheong has scrapped a third quarter profit attributable to owners of the parent of MYR6,000 ($1,370) as revenue plunged on scarce OSV sales.
The latest profit compares to the gain of MYR126.29m in the same period of 2014, during which the offshore market had yet entered a downcycle.
Third quarter revenue plummeted by 69% year-on-year to MYR189.27m due mainly to significantly less contributions from the shipbuilding segment.
This year-to-date, Nam Cheong has sold only two OSVs (one accommodation work barge and one AHTS vessel), compared to 27 OSVs sold in 2014 and 24 in 2013.
"We still have eight vessels available that are unsold," said Leong Seng Keat, ceo of Nam Cheong. Amid the strong industry headwinds, Leong maintained that the company will continue with its build-to-stock strategy as it has several partnering yards in China for it to maintain moderate inventory and low overhead costs.
He added that the build-to-stock business is also part of Nam Cheong's "offensive" strategy to position itself for an upturn and continual industry fleet renewal.
Year-to-date, the global AHTS vessels' age that are less than 10 years old enjoy 27% better utilisation than vessels that are more than 10 years old, and 25% of global AHTS vessels fleet is more than 25 years old and needs replacement.
Leong added that the company's "defensive" strategy is to slow down vessel construction and defer the delivery schedule of the vessels that are currently under construction.
During the third quarter, however, Leong pointed out that enquiry levels have increased, particularly in the Middle East, West Africa and India, and in shallow water projects. "But we are unable to say if this enquiry trend will continue to increase," he said.
Tiong Su Kouk, executive chairman of Nam Cheong, commented: "Over the medium to longer term, our operations remain resilient as we have a good global market position and competitive niche as an OSV builder. Additionally, our asset-light strategy is proving itself in volatile times, with production flexibility given our long term relationships with reputable, outsourced Chinese yards."