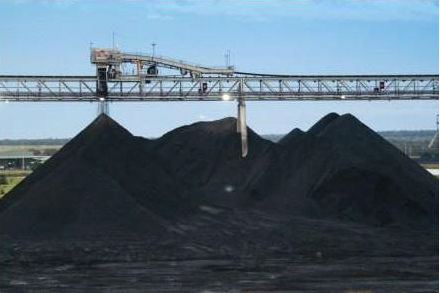 A Chinese state-owned coal miner said it will get a 3.8 billion yuan ($595.6 million) bailout from the local government before two bonds mature next month.
Heilongjiang Longmay Mining Holding Group will use the money, which will be transferred to its account by Dec. 1, toward payments on 5 billion yuan of bonds due Dec. 5 and 800 million yuan of notes maturing Dec. 15, according to a company statement on Chinamoney's website Thursday. Longmay, the biggest coking coal company in northeast China, will also use 2.3 billion yuan of its own cash to repay the debts, which include principal and interest, it said.
At least six firms have defaulted in China's onshore market this year, as President Xi Jinping shifts from reliance on smokestack industries amid the slowest economic growth in a quarter century. The global slump in commodities has added to financial strains in China's energy industry. In the international market, coal trader Winsway Enterprises Holdings Ltd. failed to pay interest on dollar bonds for a second time this year in October, and Hidili Industry International Development Ltd. didn't repay its dollar notes due Nov. 4.
"The bailout will help ease the market worries about credit risks," said analysts led by Xu Hanfei at Guotai Junan Securities Co. in a report Friday. "But there is still uncertainty if Longmay can repay the other outstanding borrowings."
Outstanding Debts
Longmay has 1.6 billion yuan of notes with a coupon rate of 5.5 percent due July 2016 and 800 million yuan of debentures with a 7 percent coupon due in March 2016, according to data compiled by Bloomberg.
The company suffered a net loss of 2.8 billion yuan in the first nine months of this year, compared with a loss of 3.9 billion yuan in the same period last year, according to a statement on Oct. 30. Its total debt rose to 63.2 billion yuan as of Sept. 30 from 57.5 billion yuan at the beginning of this year.
"As Heilongjiang province's signature state-owned coal company, our company's reform and development affect the lives of more than 200,000 workers and their families, as well as the interests of many companies and financial institutions in the province," Longmay said in the statement Thursday.
Other coal companies have also fallen into debt traps. State-owned coal miner Yunnan Coal Chemical Industry Group Co. and its businesses had 1.31 billion yuan of overdue loans as of Oct. 30 due to rising borrowings and a cash shortage, its unit Yunnan Yunwei Co. said in a Shanghai Stock Exchange statement dated Tuesday. China Chengxin International Credit Rating Co. lowered the parent's issuer rating to BB from AA on Nov. 13, and put the firm on notice for a possible further cut.
"The provincial government has always been pulling together strength of the whole province to support Longmay's reform and development," Longmay's statement said.