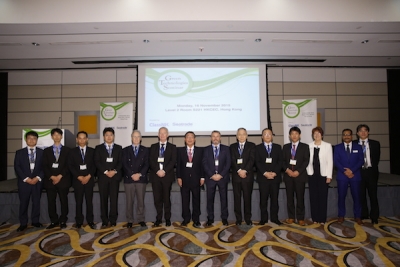 The ClassNK/Seatrade Green Technologies Seminar in Hong Kong last week threw up some interesting possibilities from the technical side on how to make shipping greener as well as the financial means to make it happen.
European Investment Bank shipping head Mark Clintworth was the first to point out the opportunities when he noted in his presentation that of the EUR77bn the bank lent out in 2014, less than 10% or EUR7.1bn went to countries outside the European Union (EU), although the bank, which was founded in 1958 by the Treaty of Rome and shares a common history with the European Community, works with some 150 non-EU states.
This suggests that there is potential for further funds to flow to other regions such as Asia. For example, emphasis is being placed on the motorways of the sea concept focusing on short-sea shipping in Europe. There is a possibility for similar concepts in Southeast Asia to be supported for example.
There has already been a drive to replace older, less efficient and more polluting vessels in Europe with hundreds of millions of euros supporting various projects in Denmark, Finland and elsewhere. With stricter European environmental regulations imminent, shipowners will be put under financial pressure to upgrade their ships to meet these standards.
Set alongside the European banks cutting back on shipping loans there is "a desperate need for alternative funding sources," Clintworth said.
Meanwhile viable technical solutions are increasingly becoming available to meet the challenges posed by the new regulations. For example, in response to the urgent need to retrofit massive numbers of vessels with Ballast Water Management Systems (BWMS), Japan's Sanwa Dock has expanded its yard capacity as well as set up a system of 3D imaging that will streamline the process.
"Accurate design is a very important part of the process," noted Sanwa Dock ceo Isamu Teranishi. He pointed out that confined engine room spaces make the whole retrofitting process challenging.
Working with the ClassNK-PEERLESS 3D modelling software enables both docking time and the planning cycle for the retrofitting to be significantly reduced, he said.
Meanwhile, Sanwa's dockyard expansion will enable it to increase its capacity for retrofits from 10 to 20 a year now to 50 to 80.
While BWMS systems are meant to help prevent invasive species fouling the natural environment, new technology from Nippon Steel and Sumitomo Metal can help prevent spillage from accidents.
Talking about the benefits of highly ductile steel (HDS), Imabari Shipbuilding Hull Design Group leader Kenji Kamita said this steel has three times the energy absorption capability of normal high tensile steel in a collision.
Kamita noted that tests at the shipyard showed that at low speeds of about 12 knots, the time to rupture of HDS increased by about two times compared to conventional steel. Moreover, with a smaller hollow depth, HDS is also easier to repair.
Another aspect of green shipping is to reduce fuel consumption. Various solutions for greater fuel efficiency were also highlighted at the seminar. Nakashima Propeller Co Composite Business Department gm Toshio Yamatogi illustrated how the company has been doing research and testing on carbon fibre reinforced plastic (CFRP) propellers on smaller vessels with the aim of achieving an installation on a 60,000 dwt dry bulk carrier by 2017.
Starting from a feasibility study in 2007, this has culminated in a joint research project with ClassNK which resulted in the retrofitting of the main propeller of a 500GT chemical tanker in Japan in 2014, the first application of this technology in the world.
Results have shown the CFRP propeller has a 60% lower weight than similar or slightly smaller traditional bronze propellers while fatigue strength is more than double and tensile strength has also improved, resulting in better flexibility performance.
This in turn has resulted in lower pressure fluctuations, even in bad weather and reduced vibration, overloading on the engine shaft and cavitation. Yamatogi noted that tests have shown a 9% reduction in shaft power use at 11.5 knots service speed compared to bronze propellers. But ultimately, it has also resulted in happier crews, with one master reporting that engine noise has been reduced so much that it is possible to have normal conversations in the dining room now, he quipped.
Approaching the fuel consumption issue from another perspective is the ClassNK NAPA GREEN software solution. The eco-efficiency solution provides a tool to analyse the various aspects of the ship's operations.
The full potential of the software has however not been realized yet. ClassNK has a 30% fuel savings target by using all the available technologies, said Marine and Industrial Service Department manager Katsutoshi Nagata.