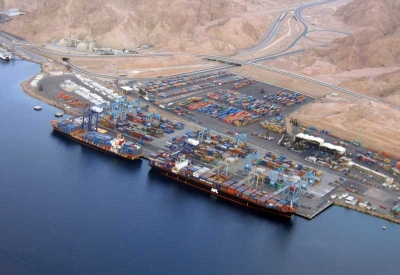 APM Terminals has opened a 53,000 sq m expansion of the Aqaba Logistics Village (ALV) at Jordan's growing hub port, with local Jordanian partner Kawar Group.
Established as a response to a 40% annual growth in distribution services at the ALV, 'Phase 2' of the facility includes 13,000 sq m of multi-purpose warehousing alongside 40,000 sq m of open yard, which will be used to store containers, cars, timber and project cargo moving through the port, while the warehouse will be used for storage, handling, picking, sorting and palletizing as well as office space on upper levels of the buildings.
The first major distribution contract concluded for ALV Phase 2 is with the International Committee of the Red Cross, which plans to use Aqaba as a central supply hub for humanitarian aid supplies.
"This modern multi-purpose facility represents a new step for the Port of Aqaba and the Kingdom of Jordan as we continue toward our goal of becoming an essential regional commercial and logistics hub," said ALV ceo Hakam Abul Feilat. "Our upgraded services and capabilities will help to create an efficient, economical and reliable supply chain for importers and distributors in Jordan, the Levant and inland points in the Middle East.
ALV provides logistics services for Aqaba Container Terminal, a public private partnership of the government's Aqaba Development Corp and APM Terminals, which took over operational control of ACT in 2006 and has since invested $284m in investing throughput capacity to 1.5m teu.