New US and Middle East methanol production capacity being added over the next two years will have serious implications for chemical shipping trade flow patterns, according to the latest edition of the Chemical Forecaster, published by global shipping consultancy Drewry.
Methanol is one of the top 5 seaborne chemical commodities accounting for 35% of the world seaborne chemical and vegoil trade in 2014. Despite being the largest producer, by both capacity and output, China remains a net importer and will continue to drive demand for methanol exports out of North America and the Middle East.
The build-up of petrochemical capacity in the first wave of US projects, estimated at about 12 million tonnes per year, presents a long-term competitive challenge for Europe and the Middle East's petrochemical industry. Prior to 2015, the US imported approximately 5 million tonnes of methanol per year, mainly from Trinidad and Tobago and Venezuela. Given these new capacity additions the US will become a net exporter of methanol in 2016.
In the Middle East, Iran is the only country to have new projects and expansions in the pipeline. If sanctions are lifted in 2016, Iran will increase its methanol production by 20 million tonnes between 2020 and 2025, with most of the incremental flows moving to Asian markets. The Middle East has absolute advantage in methanol production, but no new capacity will be added until Iran's new projects start up.
Methanol seaborne trades in 1H15 and future new routes (in million tonnes)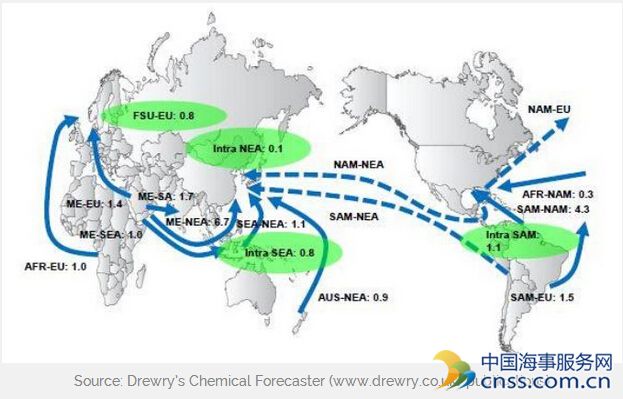 "The large volume of methanol supply will find new markets across the globe over the next five years. The addition America's new production capacity has weighed heavily on methanol prices, leading to a significant fall in both spot and contract prices in 2015," said Drewry's Lead Analyst for Chemical Shipping Hu Qing.
By 2020, North and South America will export more than 9 million tonnes of methanol to Northeast Asia, mainly China. Once North America starts exporting methanol to Asia, tankers with specialised coatings such as zinc or marineline, interline and stainless steel will benefit. On the Transpacific trade lane, MRs with zinc-coated tankers are competitive as the ship price and freight rates are lower, but with less flexibility compared to large stainless steel tankers.
"The average size of a methanol ship is expected to increase considering the long-haul distance between the major sources of supply and demand. Shipping cost will remain an integral part of the overall product price. The Middle East and US will be key sources of supply for the product, with China and India being the ultimate destinations," added Qing.