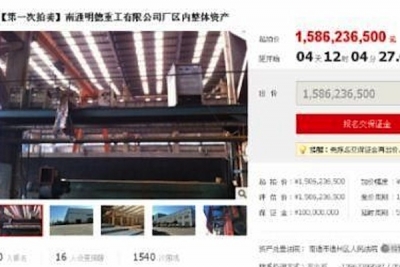 Bankrupt Nantong Mingde Heavy Industry has resorted to selling its assets on Taobao, China's largest online retail platform, after the yard failed to find investors, according to Nantong's Tongzhou District People's Court.
The court has put up a notice on Taobao saying that the Chinese shipyard's assets will be on sale from 31 December 2015 at a starting bid price of approximately RMB1.59bn ($247.59m)
Some of the assets on sales include the Mingde's land use rights, property, construction equipment, raw materials, machinery, vehicles, electronics and office equipment, and one shipyard dock and two piers.
Mingde itself applied to the court for bankruptcy on 31 July this year, after it failed to attract new investors and did not submit its restructuring plan.
In December last year, compatriot shipbuilder Sainty Marine had applied to help restructure Mingde but the rescue plan made no headway as Sainty Marine is itself mired in financial troubles. Sainty Marine is Mingde's biggest creditor and the two yards had collaborated over newbuilding contracts.
Mingde was once China's leading builder of chemical tankers, and is also listed as a 'white list' shipyard, giving it preferential access to domestic bank loans as part of a government policy to ease the liquidity crunch faced by shipyards.
The 'white list' status, however, offers no protection against existing debts and does not give the companies automatic access to fundings.