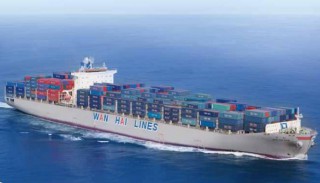 The Singapore-flagged containership M/V Wan Hai 506, owned by Taiwan-based shipping company Wan Hai Lines, was refolated after it ran aground following its departure from the port of Hong Kong on December 24, the owner said.
The 2005-built boxship is now on its way to Shekou dry dock where it will undergo urgent repairs.
The grounding of the 52,146 dwt vessel has caused a delay in Tokyo-based shipping company Mitsui O.S.K. Lines' HS3 service, covering the route of Osaka – Yokkaichi – Yokohama – Tokyo – Hong Kong – Singapore – 1st Port Kelang – 2nd Port Kelang – Singapore – Caimep – Shekou – Hong Kong – Osaka.
On December 25, Wan Hai made an ad-hoc call at Shekou to discharge all containers on M/V Wan Hai 506 before the vessel starts the repairs.
According to MOL, a relief vessel, M/V Hongkong Bridge will phase into the HS3 service at Yokkaichi on December 30, replacing M/V Wan Hai 506.
There were no reports of injuries to the crew and damage to the cargo.
At the time of the incident, the 259-meter long Wan Hai 506 was on its way to Osaka.