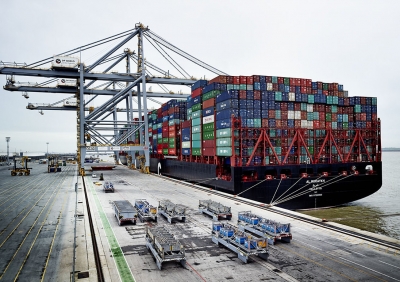 UASC container ship Al Muraykh called at DP World's London Gateway in a one-off call carrying a record breaking cargo of 18,601 teu.
Leaving from Malaysia's Port Klang the Malta-flagged vessel unloaded 3,800 containers at DP World London Gateway terminal as its first port of call in Europe, instead of Felixstowe as originally scheduled, on UASC's two-week AEC1 service. The vessel is now en route to Rotterdam.
Delivered in August 2015, the vessel is one of a recent breed of 'A19'-class ultra-large container (ULCs) vessels, with a total capacity of 18,800 teu. The line has four ULCs in its fleet and a further two on order. There are 74 vessels of 18,000-teu-or-above currently on order internationally.
Measuring 400 m in length, with containers stacked 11 storeys high above deck and 23 across, UASC is claiming the vessel is "the greenest in the world", according to coo of UASC Waleed Al Dawood. "This voyage marks a very important milestone in our newbuilding and environmental sustainability program with this being the highest utilisation of our 18,800 teu eco-efficient class to date."
"The ship's Master, Captain Spisak Andrezej and I, were able to wish each other Happy New Year whilst watching London Gateway's port cranes unload four containers at a time using our quad-lift innovative technology. Trucks picking up containers are able to pick up faster and safer than ever before.
Moore added, "As we enter 2016 in full swing, we look forward to opening berth three in the summer. The start of 2016 is seeing record volumes moving across the port."