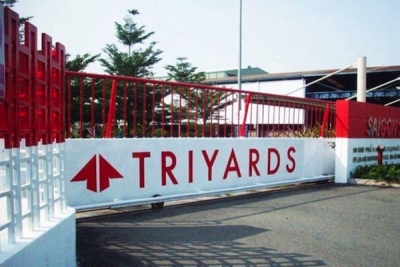 Singapore-listed Triyards Holdings has reported a drop in net profit for its first quarter of financial year 2016, despite an increase in revenue.
For its first quarter ended 30 November 2015, profit was recorded at $6.16m, down 25% from the profit of $8.22m seen in the previous corresponding period.
Triyards explained that the fall in profit was due to the previous quarter's one-off gain of $3.9m arising from provisional negative goodwill recognised on the acquisition of Strategic Marine as announced in October 2014.
Revenue for the quarter, however, rose 38% year-on-year to $78.13m, driven largely by projects secured during financial year 2015 on four liftboats and two multi-purpose support vessels (MPSVs) that have progressed into advanced stages of construction.
"Our ability to achieve this set of results amid a challenging operating environment is backed by our success in expanding and diversifying our orderbook," said Chan Eng Yew, ceo of Triyards.
The company said it has made conscientious effort over the past 12 months to diversify its clientele base as well as to expand its product offering beyond oil and gas related assets, such as chemical tanker, scientific research vessel and windfarm crew transfer vessel.
Weakened oil prices since the beginning of 2015 had led to reduction or postpontment of oil and gas capital expenditure especially for exploration activities.