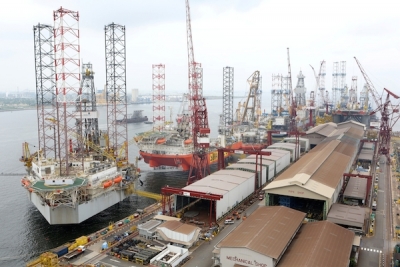 Keppel Corp has taken an SGD230m ($159.9m) provision on its $4.9bn rig orders from Sete Brasil and stopped all work on the six semi-submersible rig newbuildings for the rig contractor.
Keppel has received no progress payments on the six semi-submersible newbuildings since November 2014, and numerous reports this year have pointed to Sete Brasil, its biggest customer, declaring bankruptcy after an extended period of failing to agree a financial restructuring.
Speaking at the company's annual result briefing, Keppel Corp ceo Loh Chin Hua said: "As we await further clarity on the situation, we have stopped construction of Sete's projects by the end of 2015. We have also made a provision of about SGD230m for these projects in 4Q 2015, after assessing our construction progress, payment status and amounts due to our vendors amongst other areas."
Loh said that work on the first four units had progressed by less than 4% each quarter since the start of 2015, and "minimal work" had been done on the last two.
In July last year Keppel said the first three of the SSTM 38E designed semi-submersibles drilling rigs was 90%, 63% and 36% completed, respectively. The first two rigs are in Keppel's Brazilian yard Keppel BrasFELS.
According to Loh the company had received $1.3bn from Sete Brasil before payments stopped in November 2014
In an hour and half long briefing Keppel senior executives were faced with a barrage of questions over the provisions and what would happen if Sete Brasil declared bankruptcy.
On questions over the amount of the provision Loh said they had taken into possible account all possible scenarios and "we believe the amount is adequate".
Faced with repeated questions as to what Keppel would do if Sete Brasil does declare bankruptcy the Loh was coy. "We have come-up with our plans, but these plans are to be kept to ourselves for now," he said.
Keppel is not alone in its woes with Sete Brasil and compatriot shipyard group Sembcorp Marine has a $4.8bn seven drillship newbuild order which is facing similar difficulties.