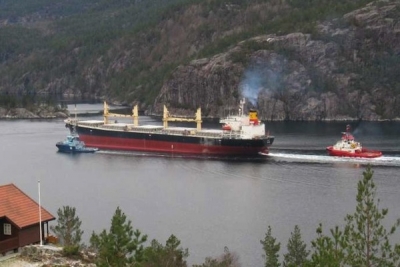 Dry bulk shipowner Jinhui Shipping and Transportation is expected to make a significant loss for the fourth quarter and year ended 31 December 2015 due mainly to the challenging shipping environment as well as impairment loss on assets.
Hong Kong-listed Jinhui Holdings said its shipowning subsidiary has faced a tough year in 2015 in the dry bulk shipping market, coupled with deeper than expected slowdown of China's economic growth, ambiguous currency policies, and a meltdown in commodities prices from metals to oil all occurring in a synchronised manner.
Jinhui Holdings did not give a figure guidance on how much Jinhui Shipping would lose. It did, however, mentioned that the abrupt correction of global stock markets in late 2015 caused a net loss of approximately HKD150m ($19.2m) on Jinhui Shipping's investment portfolio.
The projected loss is also attributed to the impairment loss on certain owned vessels, and the weak spot freight market has continued to dent Jinhui Shipping's hire and freight revenue.
"At end of 2015, the management cautiously reviewed the fundamentals in dry bulk shipping market and considered the low freight rate environment shall persist for a longer time than previously expected and the timing of the rebalancing of demand and supply of tonnage is expected to be fluid, and unlikely to materialise in the near term," Jinhui Holdings stated.
Jinhui Shipping has booked a deficit of $32.39m for the third quarter ended 30 September 2015, widening from the loss of $15.73m seen in the same period of 2014.