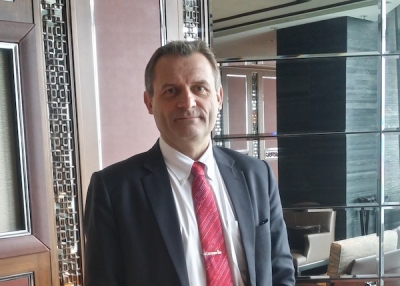 Stena Roro, the vehicle and passenger ferry owning and operating arm of Sweden's Stena Group, is making greater inroads into Asia but is doing so in a measured and systematic way, md Per Westling told Seatrade Maritime News.
The first part of the plan involves establishing operating entities in China, Korea and Japan, where they now have four people, one each in Beijing and Shanghai as well as in Korea and Japan. Westling revealed that he is also planning to employ at least two more local staff in China within the year as the company explores more opportunities there and needs the local market knowledge and language skills.
Currently Stena Roro has one vessel on charter to Bohai Ferries, running a pioneering route between Yantai, just north or Qingdao to Pyongtaek, near Incheon in South Korea. This charter which has been running since 2014 is "working well" and Westling hopes to build on it but steadily and at a sustainable pace.."We are now establishing ourselves as a tonnage provider, we are not aiming to open up any operation of our own services," he reiterated. However, Westling noted that there are currently about 15 operators running the major northern China to Korea routes and there is a need to modernize and upgrade the fleet.
"I do see a need for juvenisation of that fleet and I see us playing an important role in that to supply this market with more high quality ships," Westling said. He expects to have four to five ships in this market within two to three years. Some of these vessels are expected to be transferred from the European market into Asia.
Another factor that will help Stena as a group and Stena Roro specifically expand into China is its ship management arm Northern Marine, which is working to get a full document of compliance (DOC) for Chinese flagged vessels. In this way Stena Roro will be able to provide an end to end solution for Chinese owners, Westling added.