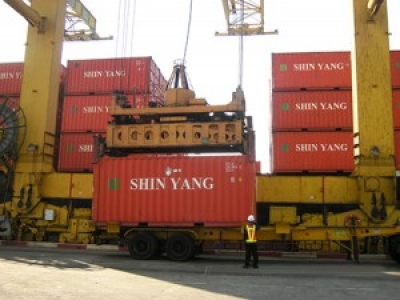 Leading Malaysian domestic shipping company Shin Yang Shipping Corp (Syscorp) has tuned inwards in the face of continued volatility in the international container shipping market, local reports said.
Syscorp has realigned its focus to domestic container shipping routes with some 95% of its 14 container ships deployed on routes within Malaysia, group financial controller Richard Ling said
."A majority of these container ships ply Sarawak, Sabah and Peninsular Malaysia ports," he said, adding that the group laid up three container vessels after ceasing the unprofitable regional operations more than a year ago.
However, domestic container shipping operation remains "very competitive" with reduced demand, Ling said, and this has squeezed the profit margins of shippers.
Syscorp sees some future cargo potential from the sea transportation of road construction materials for the Pan Borneo Highway project in the next few years. Two of the project's work packages are under implementation and 10 other work packages for the multi-billion ringgit projects are expected to be awarded in stages.
Meanwhile, Syscorp's other core business in shipbuilding, has been adversely affected, Ling said, adding that the offshore support vessels segment has been especially hard hit as oil majors had drastically cut their capital expenditure on oil exploration and production activities in the wake of the depressed crude oil prices.
"Our shipyards are also constructing smaller vessels, like landing craft and tug-and-barges. We are concentrating on ship repair business," he added.