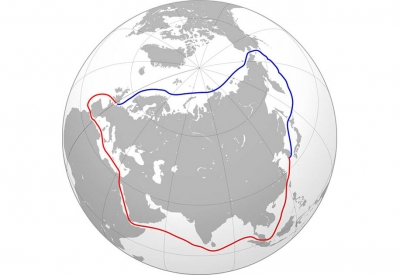 ABS and China Ocean Shipping Company (Cosco) have signed an agreement to cooperate on trans-Arctic voyages through the Northeast passage.
The agreement includes development of specialised ice-class vessel types able to navigate the arctic sea route, under a cooperative initiative on Arctic Shipping Technology Development.
Use of the Northern Sea Route, which has become navigable for shipping between July and November thanks to climate change and melting sea ice, allows a reduction of nearly 4,000 miles of voyage distance between Asian and European ports.
"ABS is excited to work with Cosco to develop this pioneering trading route," said Eric Kleess, president and coo of ABS Greater China Division, at the signing ceremony in Shanghai. "Combining ABS' technical experience with Cosco's successful use of the Northeast Passage with the first Chinese merchant ship, Yongsheng, navigating this route creates a solid foundation for jointly promoting the development of sustainable shipping in Arctic waters."
Fellow signatory Meijiang Cai, director of Cosco safety & technology supervision division, added: "We are proud of the successful navigation through Arctic waters and the contribution we are making to trans-Arctic shipping. Further cooperation between Cosco and ABS will allow us to make new contributions to the sustainable use of Arctic sea routes."