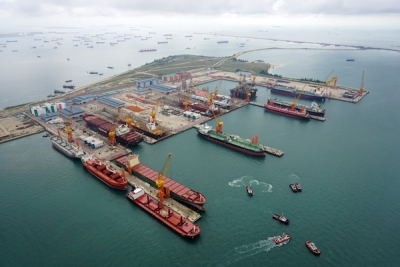 Sembcorp Marine (Sembmarine) plunged SGD290m ($207.3m) into the red in 2015 due to provisions relating to its Sete Brasil contracts and other customers, as well as losses from associates, including Cosco Shipyard Group (CSG).
The shipyard group also racked up what is believed to be its first quarterly loss in its history as Sembmarine with an SGD553.5m loss in the fourth quarter of 2015.
The Singapore-listed company took impairment and provisions of SGD609m for rig newbuilding projects including, SGD329m for Sete Brasil, as well as a SGD192m share in losses of associates. Sembmarine owns a 30% stake in loss making CSG.
Sete Brasil has seven drillships on order with Sembmarine and has made no progress payments since late 2014 as its struggles with possible bankruptcy.
"The drillships are in various stages of completion, and to-date we have been paid a total of SGD2.7bn, progressively for work done, before payments stopped in November 2014," Wong Weng Sun, ceo of Sembmarine told a media and analyst briefing on Monday.
On the SGD329m provision for the orders he said: "This figure takes into consideration, in our view, the full extent of our exposure to the Sete contracts, including the amount of unpaid invoices and construction progress, and amounts to be paid to our suppliers and vendors.
"We believe that under the present circumstances, our provision is sufficient to address any potential adverse outcome to the Sete contracts."
A Sete shareholder meeting postponed a decision on judicial reorganization on 19 January this year.
Wong said that four of its seven drillships were between 90% and 50% complete. Of these the one that is over 90% complete is in its Brazilian yard while the other three are still in Singapore. According to Wong the remaining three drillships were still at the EPC stage.
The company repeatedly stressed the need to "preserve value" on the first four newbuilds.
On its provisions for other customers Wong said that they were made on an assessment of current and future conditions, but it could not rule out the possibility of further delivery deferments and possible cancellations.
While Sembmarine is in legal dispute with Marco Polo Marine over claimed cracks in a jack-up newbuilding the latter was supposed to take delivery of last year, Sembmarine cfo Tan Cheng Tat, said most of its jack-ups had been "technically accepted" for delivery. However, in some case delivery remains delayed and Wong said it was discussing with its customers what was the "best approach".
Analysts took particular concern over jack-ups currently under construction for Oro Negro.