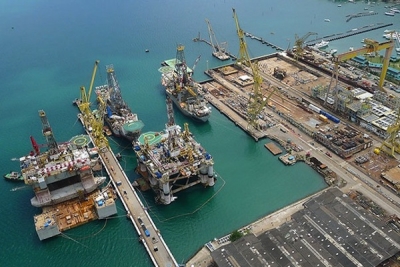 Keppel Corp announced on Tuesday that investigations are continuing over allegations of illegal payments connected to contracts with Brazil's state-owned oil and gas firm Petrobras and its subsidiary Sete Brasil.
Back in February 2015, allegations were made by Petrobras' former engineering manager Pedro Jose Baruso that illegal payments were made by the agent Zwi Skornicki in connection with contracts between certain Keppel entities and Petrobras and/or Sete Brasil.
"Keppel had since put the agency relationship with Skornicki on hold pending determination by the relevant authorities into the allegations made on the matter," Singapore-listed Keppel Corp stated.
Recent media reports said that Skornicki was arrested in Brazil on 22 February.
News of the bribery allegations surfaced when Brazilian media Veja reported that Keppel Fels Brasil and Sembmarine's Jurong Aracruz shipyard paid more than $6m in bribes to officials of Petrobras and directors of Sete Brasil, to win contracts.
Sembmarine had refuted the allegations. Keppel also reiterated in its latest statement that it holds a "zero-tolerance stance against any form of illegal activity, including bribery and corruption, involving its employees or associates".