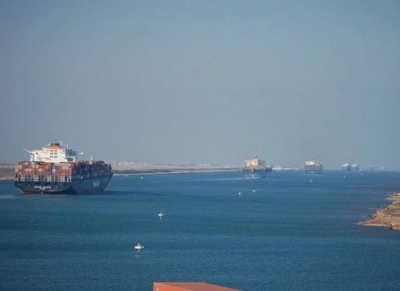 Various risks arise as traffic increases at newly upgraded Suez Canal, Braemar Shipping Services Asia has warned.
Since the completion of the new dual carriage, Braemar expects the new Suez Canal will be able to handle almost twice the traffic, "and providing it remains commercially viable, this will lead to greater numbers of vessels navigating at both Suez and Port Said," said Denis Petropoulos, president of Braemar Shipping Services Asia. However, "In any environment where there is increased traffic there is increased risk of incident," he warned.
Jeff Wilson, director of Marine Consulting (Europe) at Braemar Salvage Association, told delegates that China's "One Belt One Road" (OBOR) policy "will inevitably result in more vessels transiting and awaiting transit of the Canal at either end," which would require "careful planning".
According to Wilson, the top five casualty types across the insurance market remain "engine room machinery damage, groundings, fire/explosion and collisions and allisions", which comprise 65% of casualty claims in the hull and machinery (H&M) insurance market in the past two years. The average cost of claims hovers around $1m, he added.
"The cost of collisions has risen dramatically over time, and now comprises almost 20% of the total. Machinery damage and fire or explosion are not traffic dependent, but it's reasonable to assume that collision and grounding incidents are," said Wilson. This risk would be exacerbated in an area "of changing, increased and more densely packed traffic on a regular basis."
"Owners prefer not to have casualties," Wilson continued, "however, if an owner could choose to have a casualty he would prefer to have one in a location where there was a well-organised network of emergency response and possible pollution control, access to quality repair yards with high quality labour at a reasonable cost, and where movement of goods and services could be done rapidly and at low cost. Not all of those conditions exist in all locations, but even two out of three will reduce the immediate cost of the incident and consequently reduce long term costs."