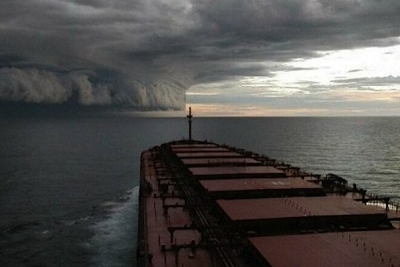 Jinhui Shipping and Transportation has booked a huge loss of $378.74m in 2015, hit by a massive impairment charge on vessels amid a severely depressed dry bulk shipping market.
The loss of $378.74m in 2015 was in line with the shipowner's expectations, widening from the deficit of $86.75m in 2014.
At the end of 2015, Jinhui Shipping performed an impairment review on owned dry bulk vessels and recognised impairment loss of $325.01m on owned vessels, compared to the $50.59m impairment in 2014.
Revenue for last year was slashed by 34.7% year-on-year to $86.3m as Jinhui Shipping was impacted by low freight rates for its chartered out vessels.
"Freight rate is now below vessel operating expenses, asset prices have gone in a downward spiral given the lack of confidence," said Jinhui Holdings, parent firm of Jinhui Shipping.
"We believe the current market cannot be sustainable for all shipowners. So far a number of established shipping companies are already in financial distress, with some others seeking renegotiations of long term charter rates with owners in order to save liquidity," Jinhui Holdings said.
"On the supply capacity front, more shipyards are expected to run into financial distress given buyers have insufficient liquidity to pay the instalments and shipyards also run out of capital. Lenders are doing their best to avoid new exposure to new shipping financing against such backdrop," it added.
The languid dry bulk shipping market has been affected by the weak demand growth due to the slowdown of Chinese coal and iron ore imports, as well as the lingering oversupply of tonnage in the market.
The Baltic Dry Index (BDI) sank to record lows in 2015 and continued falling to hit a historic low of 290 points on 11 February 2016.
On a positive note, according to Jinhui Holdings, the excess newbuilding orders arising from irrational expectations of financial return by parties with limited operating experience and backed by access to cheap funding seem to have come to a halt.
"In fact, given the reality of the prevailing tough trading environment, delays, conversions, cancellations, and shipyard defaults are leading to much fewer actualy deliveries than previously scheduled. Owners are running out of liquidity and lenders are certainly avoiding new additional exposure to the sector," Jinhui Holdings commented.