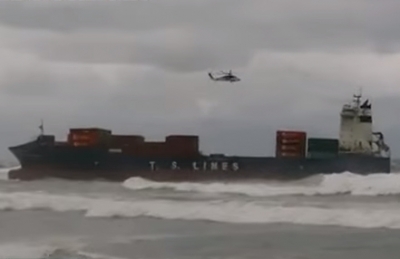 The crew of containership TS Taipei were airlifted to shore after the vessel ran aground in heavy weather off Shimen Township in New Taipei, Taiwan.
Crew abandoned the vessel in a life raft after it lost propulsion in a storm en route from Keelung to Hong Kong. The vessel was pushed onto rocks, breaching the hull and flooding the engine compartment.
The vessel's 21 crew members were subsequently airlifted by helicopter by Taiwan's National Airborne Service Corps after heavy swell and strong winds left the coastguard unable to approach. All 21 men were recovered without injury.
Some pollution was reported, and oil booms have been laid around the vessel, with salvage postponed until the weather improves.
Footage of the grounded vessel can be found here.