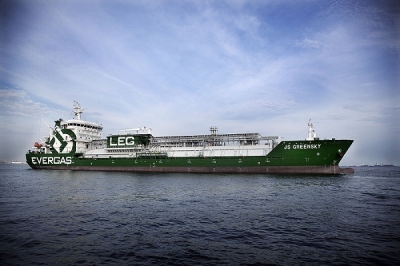 Faced with continued bleak prospects in the offshore market Bourbon is diversifying into the gas and ethane shipping markets in a $320m acquisition of companies owned by its parent Jaccar Holdings.
The move sees Bourbon taking over Jaccar Holdings nascent ethane gas shipping business with it acquiring 100% of Singapore-based shipping trust Greenship Gas.
Greenship Gas either directly or indirectly owns 17 vessels for ethane gas, ethylene and LNG transport. Of the fleet 13 vessels are currently in service with an average age of 3.5 years. It will also takeover operator and contractor of gas transportation services Evergas, which Greenship gas owns 100% of.
The acquisition sees Bourbon take a leading position in the emerging ethane gas shipping market with over 50% share in the market. Bourbon said it expected the market to have strong growth.
It will also take over Greenship Gas Manager, which manages the shipping trust, and an 80% stake in JHW Engineering & Contracting.
The purchase for the companies by Bourbon from Jaccar Holdings is $320m, with it also assuming net debt of $389m in financing for the vessels.
Explaining the rationale for the acquisition Bourbon said: "The direction taken by its customers towards the energy transition that is underway is driving Bourbon to seek the diversification of its activities to support these new directions and open real growth prospects."
Bourbon will receive $100m in sellers credit with no interest for a maximum of three years and the company anticipates having to take a bridging loan of $220m for a maximum of three years.
On completion of the deal Bourbon plans to sell 80% of its ownership of the vessels via sale and leaseback, taking the vessels back on 10-year bareboat charters.