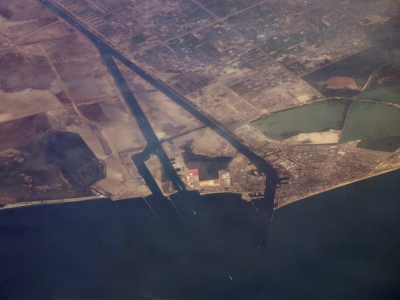 The Suez Canal Authority is offering a 30% rebate for containerships transiting canal from US East Coast ports and destined for Asia.
The rebate applies to vessels sailing from New York and ports to the south of it on the US East Coast and then calling in Asia at Port Klang, Malaysia and ports eastwards according to Alphaliner's weekly newsletter.
The rebate applies to vessels leaving New York after 7 March and is initially valid for 90 days. The rebate is aimed at recapturing traffic from the US East Coast to Asia that has opted sail via the Cape of Good Hope on the backhaul even though the distance is 12,412 nm compared to 10,117 nm via the Suez Canal given lower bunker prices and avoiding paying the canal tolls.
"The longer sailing distance is compensated by slightly higher speeds so that the rotation durations are not much affected. The detour is a viable option on the backhaul legs which are less transit time sensitive than headhaul legs," Alphaliner noted.
The analyst said that six out nine Asia – US East Coast services had been returning to Asia via the Cape of Good Hope since late 2015.